CIRS: 2nd Rank in the country and 1st in Tamil Nadu under the "Co-Ed Boarding School"


From Our Pujya Guruji Swami Tejomayananda ji

Dear Rajeshwari,
Hari Om!

If the vision is kept bright and alive and actions are performed in its light, then success is assured as our CIRS has achieved this year as well. Hearty Congratulations to one and all!

With Prem & Om,
Swami Tejomayananda
From Our Pujya Swami Swaroopananda ji

Dear Rajeshwari,
Hari Om!

Appreciation to the CIRS team including the teachers, staff, students and parents. Hearty Congratulations to one and all!

Gurudev's Blessings.
Love

At His Feet,
Swami Swaroopananda
From Our Swamini Vimalananda ji

Dear Rajeswari
Hari Om ! Namaskar!!

Nothing less should be expected from CIRS. Congratulations to all who make it possible.

Prayers for the well being of all,
Love and Pranams,

Swamini Vimalananda
From Our Board of Directors :

Dear Rajeswari
Hari Om ! Namaskar!!

- Hari Om Rajeshwari ji .... my heartiest congratulations to yourself, Shanti ji and the entire CIRS team for the continued excellence and recognition.

Sincerely,
Jagdish Moorjani ji

Hari Om Rajeshwari ji,

- Congratulations to the entire team, students and parents for this great achievement.

Regards ,
Sri. Siddharth Balachandran ji

Dear Rajeshwariji,,

Hari Om ! I am delighted to know that Chinmaya International Residential School has been ranked No.2 in India and Ranked No.1 in Tamil Nadu under the category of "Co-Ed Boarding School". I extend my Hearty Congratulations to you, all teachers and students. I wish the school more and more laurels in the years to come. May blessings of Pujya Gurudev and guidance of Pujya Guruji and Mukhya Swami Swaroopananda always remain on us.

Regards,
Dr. Ram Buxani ji


From CEO CCMT, Ms Manisha Khemlani ji

Dear Rajeswari
Hari Om ! Namaskar!!

Very happy to know about this sustained achievement. Congratulations to the entire team of CIRS including the teachers, administrative staff and of course the students for the same! Prayers to 2G that our school reaches newer heights every year.
Best wishes!
Warm regards,
Manisha Khemlani

From Our Pujya Guruji Swami Tejomayananda ji

Dear Rajeshwari,
Hari Om!

The news of IB Results is a matter of great great joy and pride for all of us. Success gives joy and enhances confidence to achieve greater success. What pleases me more is to see the fulfillment of the purpose which Pujya Gurudev had envisioned in establishing CIRS. This success is the result of individual hard work of students, efficient teaching by all teachers and above all God's grace and Pujya Gurudev's blessings. Heartiest congratulations to all!

Please convey my special love and best wishes to Nihar and Prakhar.

With Prem & Om,
Swami Tejomayananda
From Our Pujya Swami Swaroopananda ji

Dear Rajeshwari,
Hari Om!

It is thrilling to see such results even though this year has been a peculiar year. Congratulations to the entire team. Keep excelling each year.

Gurudev's Blessings.
Love

At His Feet,
Swami Swaroopananda
From Our Swamini Vimalananda ji

Dear Rajeswari
Hari Om ! Namaskar!!

Congratulations! Convey my appreciation to all concerned who made it possible for the wonderful results during these trying times.

Prayers for the well being of all,
Love and Pranams,

Swamini Vimalananda
From CEO CCMT, Ms Manisha Khemlani ji

Dear Rajeswari
Hari Om ! Namaskar!!

Delighted to get the good news. Hearty Congratulations to one and all particularly to the students and the teachers! Best wishes to the team for continued success.
Warm regards,,

Manisha Khemlani
CEO, CCMT.
From Our Board of Directors :

Hari Om Rajeshwari ji ...
Hari Om ! Namaskar!!

"My heartiest congratulations to the entire CIRS team on the wonderful results and our continued academic success" - Sri.Jagdish Moorjani ji

"This is great news indeed... heartfelt congratulations to your entire team, parents and the student" - Sri. Siddharth Balachandran ji

"I am delighted to know that all students of IB have come out with remarkable result.Heartfelt congratulations to the entire team for this achievement. I wish the school with many more such great milestones ahead. Gurudev's blessing will always be there" - Sri. Ram Buxani ji

From the parent of HARI HARAN. S(2906)Class 10 C

Ma'am,
It's pleasing to see your mail and the snaps. We as parents have full faith in CIRS's competence and commitment to handle the challenges. We wish you the very best in your endeavours.
Regards,
S Srinivasan (father of Hariharan)
Parent of Parth Makati (10 B)

Hari om,
Hope CIRS members are safe and fine.
Thank u is very small word to express our gratitude to CIRS team and family. We have full trust on U and know that you all will do the best and needful under the current situation. Praying God that this pandemic situation subsides and everyone stays healthy and happy.
Regards Raksha Makati
Parent of B. SRI VYNAVI(3281)class 10 B

Greetings to the entire team at CIRS.

Thank you for the update Maam. This is really assuring and I am happy Vynavi is back at school. I hope the children will be able to focus better on the boards now and it will be a refresher for all of them. Thanks for the attention to detail maam. Thanks and regards
Sravanti.
Parent of Nihar 2nd IB
Thanks a lot madam for ensuring the safety and hygenie of the kids and for the arrangements made.
Regards, Mukund

Parents of Advaita 2ndIB
Dear Principal Madam, Hari Om!

Thanks for the update. We know our daughter is in good hands. Thanks again.
Regards Hemant
Parent of Aditi Agarwal 12 Mgmt
Dear Ma'am, Hari Om and Namasthe,

I wish to extend my gratitude n thanks to the entire team of CIRS.
Regards
Deepa Agarwal
Parent of Devansh G 10 A
Hari om Madam,

Thanks for the photos...pls keep sending them.
Pranam,
Vinay
From the parent of AadyaBhartia 10 A
Respected principal ma'am , Hari Om &Namaskar

I extend my heartfelt gratitude to you and the school team for the care provided to the children .
Regards,
PakhiBhartia
Parent of Dipra Vinitha 12 Engg
Hari Aum ma'am. Namaste.
Thanks for this detailed mail and for the safety reinforcements.

At every stage in Dipra's years at CIRS, we have felt so grateful to the Lord for giving us the prudence to select this institution as the educational institute for our child. This past year only reinforced this gratitude. Despite all the uncertainties due to the pandemic, the school management and teachers rose so well to the occasion that the students didn't miss much except of course for the lovely campus, festivals and events and the ever so helpful and caring RHPs, RHMs and the support staff including the Akkas. The list of things to be thankful for is endless but one should always count our blessings and here's my humble attempt at it- Kudos to the teachers who took all the pains to deliver the curriculum on time and just as well as in class. I'm sure it must have been a daunting task managing students remotely and keeping their attention drawn towards the subject despite the fact that our kids haven't been the best with videos sometimes switched off. Our humble prostrations at the holy feet of the guru parampara and Swami Tejomayanandaji, Swaroopanandaji, Anukulanandaji, Shathi ma'am, yourself, Gayathri didi and others for keeping the spiritual lamp lit by ways of online discourses, Aartis and programs. Sincere Thanks to the management for giving us some relief in the fees to support some of us who have had a difficult year Financially. I'm sure there were a lot of others in the IT, accounts, admin team etc. who worked relentlessly in the background to keep the momentum going. So please pass on our sincere Thanks to all of them as well Dipra did describe how well she is taken care of during her quarantine and we're thankful to the RHPs and RHMs Looking forward and hoping for at least one visit to the campus before Dipra completes her schooling here. Thanks
Kind Regards,
VinithaWagh +971528736789
Parent of Vivek Shroff 10 C
Respected Ma'm,
Hari Om and Namaskar!

Thank you for the update. KotiPranaam to the divine force of Gurudev that runs through each and every individual in the CIRS family, upon whom we have faith and confidence more than on our own selves.
Thanks and regards,
Riya and Rajesh Shroff
Parent of DhruvAdvaith 10 D
Hari om and namaskarams
Dear Mam

We acknowledge you and the entire TEAM CIRS's efforts in making the our kids feel completely at home in a safe, healthy and academically excellent environment. You are making a "HOME AWAY HEAVEN" for your and our children. 10th and 12th grades are the most critical and crucial years in the academic life of any student and we trust CIRS will top the national this year too with brilliant results.
With Gratitude
Dr.Aparna and Mr.MadhuKolagatla.
Parent of Varun Iyer 2ndIB
Hari Om Mam,

God bless you all for relentlessly making everything so smooth and seamless for the students and us parents.
Humbled and full of gratitude,
Brinda
Parent of Yohan 10 D
Respected Madam,

Hari Om, Madam, we saw first had the precautions taken by CIRS team in ensuring the children's wellbeing and safety. We have complete faith in CIRS regarding our children. We would like to take this opportunity to appreciate all the planning that has gone into welcoming the children.
Thanking you
Warm regards, Mr & Mrs. Karthikeyan
Parent of Ansh Patel 12 Mgmt
Respected Ma'am, Hari om...!! Namaste...!

I am extremely glad to see the arrangement and enthusiasm of the CIRS admin team to take care of our children. Very much thankful to the entire team and yourself for such a wonderful arrangement. Thanks for everything,
Kind regards, Vijaykumar Patel
Parent of OhasIyer 2ndIB
Namaskaram Rajeshwariji
Thanks for the mail.
We are assured due to your sincerity and blessings of our Gurudev all be good and well for all at CIRS. So nice to see happy pictures of staff and children. Its evident the missing each cj other was on both sides. Thank you to each one of you at CIRS. Hari Aum
N SHRINIVAS IYER
Parent of PrakritiSarawgi 10 C
Dear madam

This is to thank the entire team of CIRS family for all the love and care showered on our children during these tough times.
I would specially like to appreciate the regular updates sent time to time by the school . There are certainly no questions left in our minds regarding the safety of our ward.
Thanking you Priyanka Sarawgi
Parents of Aakaankshya 12 Mgmt
Respected Madam

We highly appreciate and applaud the efficient efforts of the entire CIRS Admin to ensure the safety of students. Our heartfelt thanks to upload the pictures of their 1st day at campus.Truly , they missed their school, teachers ,and friends . We just hope that they make you proud by passing their exams with flying colours.
Thanking you with warm regards
Parents of Aakaankshya Agarwal
Parents of Srinithi 12 Engg
Dear Mam,
Im Mala, Sri Nithi"s Mother.

Kudos to the CIRS team for all their sincere effort and arrangements. We are not worried about our child as we have left them in a safest place.
Thank you for all the update
Regards, Mala
Parent of Dhivyan P class 10 B
Respected Madam, Namaskaram and Hari Om.

We the parents and our ward are also very eager to be in CIRS after long time. Thank you for your update on precaution been taken. We are confident and believe that our kids are in safe and able hands.
Regards Prathiba.

Mail from Mridula Athreya ( 2017 batch) on her achievements in college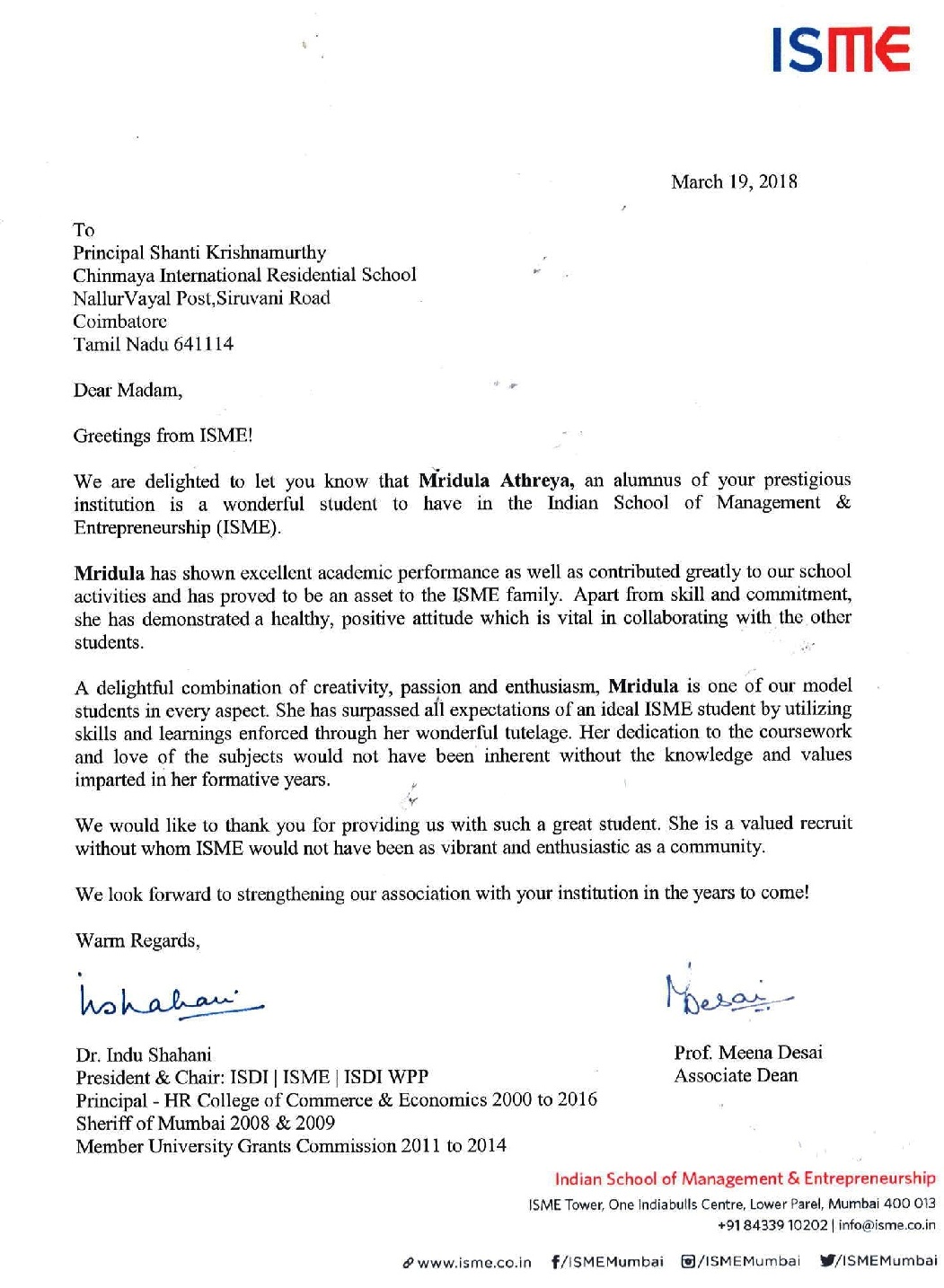 Mail from scholar Sanskaar Pandey of batch 2017 expressing gratitude
Hari Om Mam,

It's been a long time since I have not contacted you but your blessings are surely with me which always keeps me motivated and strong towards my goal.It"s been a different experience since march but with all the lessons that I have learnt in these two years, it helps me to be even good as a person.I am enjoying my studies and putting full effort towards it. I am currently preparing for Joint Entrance Examination(JEE) in a place in Madhya Pradesh. It"s a border town known as Burhanpur.It is just a replica of Kota and all my faculties are from kota.

The atmosphere outside is different and challenging because the kind of people you meet everyday are different and are from different backgrounds.The people with whom I meet and study are completely having different vision and mindset and 90 percent of them are completely spoilt. But the thing that always makes me the same and focused is the spiritual classes and arati"s which make you a stronger person.The guidance which I got there is 1000 times better than outside as once you go outside no one will even care about you. The power of knowledge and spiritualism is still the best and I thank you for providing me with powerful knowledge.

My sister also informed that some teacher's where asking about me and so it is not possible to contact all of them but I can surely contact the Master( Shanti Mam). I am sorry I won't be able to come as my coaching would start.But Iwould surely send sweets for you.

Hope your precious and auspicious blessings continue to flow upon me.
Regards
Sanskaar Pandey
Mail from Praneet Manoj of batch 2017 expressing gratitude
Hari Om!


I am writing this mail regarding my college admission.
I had written the National Entrance Eligibility Test (NEET) for the medical admissions competing against 11 lakh students across the country. I had secured a state rank of 270 out of the 88570 students who had taken part in this exam in Tamil Nadu.

On the 25th of August I had attended the Tamil Nadu state medical counselling at Chennai , where I secured a Merit seat at one of the most reputed government medical colleges in the country - ' Stanley medical college, chennai.' Many of my current classmates had taken a year off and studied in various coaching centres across the country. The very fact that I secured a Merit seat with no extra coaching whatsoever proves the quality of education that CIRS provides. CIRS has helped me build a great level of concentration and focus that I wouldn't have acquired studying in any other school.

At this point I want to express my immense gratitude to my teachers. Starting with Ganesh sir who made me believe that I can actually do it by myself. He was always willing to help me at all times and even took classes for me during the afternoon rest time helping me improve my problem solving skills . Teepika ma'am and Deepa ma'am would never hesitate to solve my doubts at any time of the day whether it's their free time or class hours . Madam Sandipa was a mentor figure constantly pushing me further because she believes in the potential of her students. My teachers in this way have proven to be somebody I will always look up to.
I want to conclude by saying that I realised it's not the long hours of coaching that is needed to crack entrance exams but motivated self study backed up by the teachers of CIRS. Especially when they are more than willing to go out of their way to help you day and night . Nowhere else would anyone find teachers who genuinely want to push you to your best , keeping in heart the child's best interest. So here I am shattering the myth that you need endless hours of coaching to ace any competitive examination and it is only because of the school and it's faculty like no other.

At his feet
Praneet Manoj
Mail from Subhiksha of IB Batch 2017 expressing gratitude:
Hari Om Ma'am,
College has finally begun for me and for the last three days I have witnessed the American education system at its best! Ma'am, I had a Calculus class which I found very easy. I assumed it was simply because it was the first week. However, I spoke to an academic advisor and I just received the most wonderful news! As a result of getting a 7 in my IB exam, I have enough credit to skip Maths for this semester and the next. Thank you so much ma'am! Without your help and guidance I would not have been at such a high level in the game. In fact, IB at CIRS made sure that I received only 6's and 7's. I have received so much credit that I am now taking classes that I would've otherwise taken in my second year of college! Thank you so much once again ma'am!
Regards,
Subhiksha Chandrasekaran.

Mail from parent of Dev Mitul Kalaria  on his selection for the Student Council:

Dear Madam Shantiji,

As a Parents its a Proud movement for us as Dev is been selected as JR Sports Secretary for the year 2017-18 & I would like to add that leadership quality which Dev has developed is only possible because of blessings & great support of whole CIRS teachers.

With Warm Regard's
Mitul Kalaria

Mail from parent of Nitin Dony on his selection for the Student Council:

Dear Principal Mam,
Hari Om,
Thank you very much for the selection. We are truly happy for this achievement, have the confident Nithin will do his best in this position.
Best regards
Dony & Jenny

Mail from parent of Ashwini on her selection for the Student Council:

Thank you Shanti Mam for the opportunities provided to Ashwini. She is enjoying the achademics, cultural and sports opportunities provided by the school and I am sure this will help her throughout her life.
Mridula still remembers her school fondly and is grateful for all the opportunities that school has provided her which makes her stand out in her current college.
Thank you and the same once again for providing Ashwini the various opportunities.
Hari Om.
Kind regards
Sridar
Mail from parent of Nandita S on her selection for the Student Council:

Hari Om ,Mam
We are overwhelmed with joy on hearing that Nandita is the cultural secretary.
We are glad and thankful to you'll for giving her such an opportunity and we feel really proud of our child .Thank you for your support mam.
Regards
Gayathri.S
Mail from parent of Aditya Manoj on his selection for the Student Council:

Hari Om!
We are very delighted to know this and feel happy and proud. He seems to be following my foot steps as I used to the School Captain and House Captain during my school days! All because of Poojya Gurudev's blessings and the efforts put by CIRS teachers and other team members under your able leadership to get the best out of any child. We are proud to be CIRS parents!
Thanking you and Regards
Manoj G Parmesh
Mail from parent of Devika on her selection for the Student Council:

Hari Om, Namaskar,
I am very happy to hear that Devika become SR.LITERARY & CULTURAL SECRETARY. I am sure that Pujya Gurudev's blessings and CIRS teacher's guidance ,she can do well in her given responsibility. May God bless Devika as well as whole CIRS family to perform well in future.
Best Regards,
Suresh, Dammam, K.S.A
Mail from parent of Varun Naveen Iyer on his selection for the Student Council:

Hari OM
This is an excellent opportunity for Varun and I am sure he is up to the challenge
Thank you for letting us know and investing in his potential

Naveen

Mail from parent of Naman on his selection for the Student Council:

Hari Om, Namaste.
I am really thankful to you for selecting Naman as Junior House Captain (Vyasa House) and giving him the great responsibility to represent the House and exhibit his ability to deliver the same as per the expectation of the House and teachers.
I personally thank you for the bringing up of my child both in academic and extra carriculam in such a way that today by blessings of Shri Guruji and guidance of teachers he is able to gain the trust of all and has been recognised.
I sincerely pray almighty to bless him and show him right path under your guidance to prove himself and I wish him ALL THE BEST and come up with bright colours in future.
With Regards
Sunil Gupta
Mail from parent of Dev Mitul Kalaria ( 2458) class 9B
Dear Madam Shantiji,

As a Parents its a Proud movement for us as Dev is been selected as JR Sports Secretary for the year 2017-18 & I would like to add that leadership quality which Dev has developed is only possible because of blessings & great support of whole CIRS teachers.

With Warm Regard's

Mitul Kalaria
Mail from parent of Anagha Shubash Nair – Class Ist Year IB
Respected Ma'am,
Wishing you a good day.
Thank you very much for sharing this pleasant information.
I am indeed very much grateful to the Principal and all the teachers for all the encouragement and support provided to Anagha.
With the continued guidance from all her teachers/advisers I am very much hopeful that Anagha will stand up to all challenges and
responsibilities of her new position.
With best regards,
Subhash Nair
Abu Dhabi
Mail from Our alumni Uday Gosain (S- 76) Class 12 Management
Hari Om Ma'am,
How are you Ma'am? I hope this mail finds you in a great condition. Ma'am after all these 7 years that I have spent in CIRS I always gave it a thought of what I am taking along with me. Ma'am now I have come to a realization of what this school has crafted me into. Ma'am currently I am pursuing BBA LLB Honours with a specialization in International trade and investment and a distance education of BA in English. This past week I experienced what CIRS and the Chinmaya mission has gifted me with. The transformation takes place within every student who studies from our school and that transformation Ma'am takes place subconsciously.
Ma'am it has just been a week in my college and there was this PEP Personality Enhancement Program for us and Ma'am from the whole Legal department I had been awarded with the best speaker and communicator in terms of my presentation.
Since I had been awarded I was asked by the department to prepare a presentation and present in front of hundreds the next day.
I don't know what to call it Ma'am but it just struck me that I have this opportunity and I should make the people aware of this mission established by Gurudev and prove through all the Spiritual classes I've gone through that YES God does exist. Ma'am through the practice of levitation and chanting of OM NAMAH SHIVAYA we lifted a boy of 120 kgs and the whole audience was on its toes. The explanation of OM AJAYA NAMAHA the first name of Gurudev - SALUTATIONS TO THE UNBORN. Ma'am to the end after the explanation of God does exist through the example of for every creation there has to be a creator and through the examples of the Mahabharata and the Big bang theory I was awarded with a standing ovation.
Ma'am I was completely out of words seeing a crowd of hundreds on their feet for that presentation of 15 minutes. I was congratulated and Ma'am after the claps I encouraged everyone and Yes Ma'am hundreds of students chanted the Chinmaya Family Pledge along with me. The very pledge we say in the Monday assemblies. Ma'am a crowd including multi religious students- Hindus, Muslim, Christians, Sikhs and foreigners. Ma'am the power generated by those people chanting the pledge of the Chinmaya mission brought tears in my eyes. I have been further told to continue with these presentations and I have been getting encouragement from all students and faculty. I was in tears when a Muslim girl and a christian boy came to me and asked me for the Medha Suktam. Ma'am call it a transformation or a blessing from God that I have been blessed with this opportunity to spread the message of Gurudev in the best way I can. Ma'am I have been approached by 35 students already for conducting Aartis in my hostel and from Monday we will be starting with regular Aartis in my hostel. Ma'am currently I'm going through Yours Forever book by Gurudev and He did it. I have certainly made in impact in my college and the people here are ready to embrace the knowledge we have been blessed with. Ma'am in these 5 years If I can teach the people what I have learnt and what this mission and this school has given me I I surely would have made a great difference. I myself am amazed by the fact of what I can do. Ma'am for the first time I had these bunch of boys telling me that I am a good person from the heart. I am overwhelmed by what impact I can make. I look forward to work with the mission and Ma'am this college would provide me the platform to go to great stages and address thousands of masses and spread the message of Gurudev.
Ma'am surely will keep you posted with this mission I have taken up and surely will make a difference which is remarkable.
Thank you Ma'am for everything and Ma'am this incident has truly changed me into a true devotee of Gurudev and has proved that every child from CIRS stands out and can spread this message of weaving the west with the east under the message of OM TAT SAT.
Yours Sincerely,
Uday Gosain
Mail from Parent of Abhigyan Patni (3048) class 9D
Hon'ble Principal,
Warm regards
We thank you and Team CIRS for giving this opportunity to Abhigyan. We also appreciate the opportunity that you give to new students. We are sure that this exposure and responsibility will play an important role in shaping his life.
Accept our heartfelt gratitude...
Dr Ujjwal Patni & Rimple Patni
Mail from our Alumni Anjani Thakor(2279)
Hari Om Ma'am
This is Anjani Thakor a student of just passed out class 12 management.
Ma'am when I joined CIRS I was a shy little introvert girl. This school gave me soo many opportunities to grow as a person. Ma'am your decision of making me a house captain in grade 11 gave me soo many opportunities to improve and become a better person. Thank you ma'am for having that faith in me.
Ma'am in my grade 12 till my 2nd pre board exam I was some where in 60's and I remember we all came to your office and you told us all many things but when my turn came you just looked at me and did not say anything. But ma'am that hit me the most because I could see it in your eyes that I have let you down.
Ma'am that day on I decided that I will work very hard. I got 91% I know ma'am it's not that great but for me it is an achievement ma'am. Today I am studying in one of the best university in Chicago and that too on my own. My dad is not paying for my tution. Ma'am All this could happen only because of CIRS , you and amazing teachers of CIRS.
Thank you ma'am and I promise you whenever I go I will live upto the values of our school.
Thank you ma'am
Your student
Anjani Thakor
Mail from parent of S.V.Jaishwin (2642) class XII Management
Respected madam,
Hari om! Namaste!
I thank you and all the teachers so much for the care and support given to my son S.V.Jaishwin (2642) at CIRS. He has secured 89 percent in the 12th board exams.
He was offered B.A Llb Hons at Jindal Global Law School, NLS Trichy and many other private law schools. As his aim is to get into one of the top 5 NLUs he is taking a gap year this year and preparing for CLAT 2018.
I thank CIRS for giving him the confidence to aim high and the spirit to work hard.
The Lord shall always shower His blessings upon CIRS and its family!!
With regards,
V. Arthe
Mail from Parent of Madhav and Sharanya Ramesh
Dear Shanti Ma'am,
Hari Om!
As principal of CIRS and as you know my son Madhav , the young student who often drove you to irritation with his love for football and disregard for studies, I thought I would write and tell you how well two former  students of your school have turned out.
My daughter Sharanya passed out of school before you came to Cirs. Some of the old teachers may remember her. She went on to do journalism from Sophia College, Mumbai and then worked for three years teaching at the slums of Mumbai, a teacher and then programme manager with Teach For India. From there she went onto do her masters in International Educational Development from University of Pennsylvania and has joined the World Bank as a consultant. The playful boy you all knew finished his BBA from Christ College and secured a job with Accenture . At Accenture he is also doing an Executive MBA from XLRI. After working with Accenture for 3 years he is thinking of doing a course in Sports Management too.
But most of all what is most important is that they are both very caring and responsible young adults. I think Swamiji would be very happy with the young adults they have become. And as CIRS played a roll in moulding the children I would like to thank the school too.
Regards,
Lakshmi Ramesh
Accolades from Head of Chinmaya Mission, Swami Swaroopanandaji on our CBSE class X results:
Dear Shantiji,
Hari Om!
Great Again. My congratulations to all.
Gurudev's blessings
Love
At His Feet,
Swaroopananda
Accolades from our Board of Directors, Sri. Laju Chanrai on our CBSE class X results
Hari OM Shantiji,
Once again, Congratulations and well done, to all who contributed to achieve these commendable results.
Laju.
Accolades from our Board of Directors, Sri. Ram Buxani on our CBSE class X results
Dear Shantiji,
Hari Om !
I am really excited to know that CIRS has achieved 100% result in the Xth grade examination.
I take this opportunity to congratulate you and all faculty as well as the students for this excellent result.
Best regards,
Ram Buxani

Accolades from Sri. Siddharth Balachandran on our CBSE class X results:
Hari Om Shantiji,
This is great news indeed! My heartfelt commendation and congratulations to every person responsible for this fantastic result.
Regards
Siddharth Balachandran
Executive Chairman & CEO
Buimerc Corporation
Accolades from Head of Chinmaya Mission, Swami Swaroopanandaji on our CBSE class XII results:

Dear Shantiji,
Hari Om!
Success and excellence has become a habit now at CIRS and that is indeed delightful. I am even more delighted that each year we are scaling new heights of success. I was happy to note that Science average has crossed the mark of 90%. CIRS Continues to Exceed Excellence.
My congratulations to you, Swami Anukoolananda, and the entire CIRS family along with all the directors whose support and guidance have been most valuable.
Gurudev's blessings
Love
At His Feet,
Swaroopananda
Accolades from our Resident Director Swami Anukoolanandaji on our CBSE class XII results

Dear Shanti Amma,
Hari Om!
Congratulations to you specially for getting the school to achieve such wonderful marks year after year.
Great credit to the team of teachers who work with such commitment to get the students to perform well.
And congratulations to the group of students who, along with all their engagement in so many programs in school also work hard and put in their best efforts to achieve these marks.
Hari Om!
Swami Anukoolananda
Chinmaya International Residential School
Coimbatore
Accolades from our Board of Directors, Sri. Laju Chanrai on our CBSE class XII results

Hari OM Shantiji,

Heartiest Congratulations to the students, the faculty and You for the outstanding results.

Regards,
Laju
Accolades from our Board of Directors, Sri. Jagdish Moorjani on our CBSE class XII results
Respected Shantiji
My wholehearted and sincere congratulations to you and all the teachers on this wonderful result.
With warm regards and best wishes
Jagdish Moorjani
Accolades from our Board of Directors, Sri. Ram Buxani on our CBSE class XII results
Dear Shantiji,
Hari Om !
It is indeed great to achieve 100% result in Science and Management Streams and I take this opportunity to congratulate all of you academics and administration, teachers and taught for collectively reaching this height.
I wish the institution further success in the coming years.
Best Regards,
Ram Buxani
Accolades from the parents of Anand Natrajan, topper of CBSE Management Stream (97%)

Hari Om,
Namaskarams,

Respected Madam Principal,
It is indeed a proud moment for us as parents and for the school to see Anand coming out with flying colours and scoring 97% overall in CBSE XII Management.
Going down the memory lane, six years ago on 10-April-2011, we handed over our coy, unsure, introvert little boy to the capable hands of CIRS Team , who then magically transformed him and he went on to :
- Become "The Dean of the School"
- Win various competitions - Chinmaya Quotient, Katha Competition, Multi-Talent quiz, Gita chanting, Debates
- Participate in multiple activities - Olympiad, Quiz Club, Music- dance and Event management (Anand Utsav & Khel Mela)
- Imbibe Value education thru Bhagawad Gita ,Vedanta ,Spiritual classes and everyday Aartis
- Celebrate festivals - Ganesh Chathurthi, Guru Poornima, Diwali etc.
- Achieve academic brilliance - Scoring 97% in 12th Grade, 10 CGPA in 10th Grade along with many merit certificates
And today it gives me immense pleasure to inform you that Anand will be joining the PwC Middle East Academy ( Pricewaterhouse Coopers- One of the big 4 accounting firms, with an annual turnover of $35.9 billion) as an intern to complete ACCA (UK) and BSc in Accounting and Finance ( Oxford -Brookes University ) .
As parents , we will cherish the memories of the Matru- Pitru Pooja , the congenial atmosphere of the school, the smiles on all the teachers and students speaking volumes of their contentment and above all the transformation in our child who now stands firmly on a solid foundation of values .
We are indeed proud to say, that joining CIRS will always be one of the best decisions we took in our life and the greatest gift to our child.
Our heartfelt gratitude to the RHPs, who took care of him as parents, and a "Big Thank You" to teachers, staff and the entire CIRS Family

We will always be associated with the Chinmaya Mission and the CIRS family is always welcome at our humble abode in Abu Dhabi

Thanks and Regards,
Natarajan SS & Lakshmi Natarajan - Proud Parents of Anand Natarajan Roll-No. 1961
Accolades from the parents of Jayesh Goal, topper of CBSE Management Stream (97%)
Respected Principal,
We are very happy with the performance of our child V.Jayesh goal (2113) and would like to share this moment of joy with entire CIRS family.
We thank you for helping to make school a positive experience for our child. With your patience love and support he has achieved his dream.
We are happy to see this transformation ​in him.
Thanking you
Regards
Parent of Jayesh​ Goal
Accolade from the parent of Amrit Balakrishnan, CBSE Science Stream
Dear Ma'am,
Hari Om! Namaste!
At the outset, let me congratulate you and the team of teachers for a wonderful Grade XII result.
Amrit scored 89.4 per cent, with high scores in all subjects, except Psychology where he surprisingly scored only 76 because of which his percentage came down. We are giving the paper for revaluation and hope for a better result.
Let me take this opportunity to thank you and all the teachers at CIRS who worked tirelessly to prepare the students for the examination. These good grades would not have been possible if not for the teachers' constant help, one-on-one sessions and encouragement. Please thank the teachers on our behalf. Also at CIRS, he could follow his passion, quizzing, and received many opportunities to exhibit his talents. We owe his development as a well-rounded individual to the school. Sincere thanks must also go to Shri Kulkarni Sir, Rajani ma'am and Sucheta Ma'am who took care of him well at the dorm.
Amrit secured admission in both Amity University Mumbai and Christ University, Bangalore. He will be pursuing a BA Triple Major in Psychology, Sociology and English at Christ University. We are sure that the values he learnt at CIRS will hold him in good stead wherever he goes.
Once again thank you and wishing you all the very best.
Warm regards
Rekha Balakrishnan
Accolade from the parent of Anamika, CBSE Management Stream

Dear Madam,
Hari Om.
We are very happy with the results Anamika achieved in her Class X11 exams and wish to sincerely thank You, the teachers and the management of the school for the same. I am sure all the students did very well.
It is the atmosphere in the school, the hard work of the teachers &management and the blessings of Gurudev which has been instrumental in the results.
It was truly a blessing for the child to have studied in the school. Not only academically, but she has developed very well in many other aspects, which is attributable to the school.
Once again thank you from the bottom of our heart.
Regards
Sunil Kumar
Mail from Pujya Guruji  on our school getting the White Swan Most Influential Brand Award and Shanti Madam getting the White Swan Most Influential Leader Award from URS Media AsiaOne Magazine:
ॐ

Dear Shantiji,

Hari Om!
Hearty Congratulations for CIRS getting the 'Most Influential Brand' Award and for you getting the 'Most Influential Leader Award'!


With Prem & Om,

Tejomayananda

Mail from Pujya Swami Swaroopanandaji  on our school getting the White Swan Most Influential Brand Award and Shanti Madam getting the White Swan Most Influential Leader Award from URS Media AsiaOne Magazine:
Dear Shantiji
Hari Om
Congratulations. Just announced to the congregation.
Lots of love.
At His Feet,
Swaroopananda
Mail from Pujya Swamini Vimalanandaji  on our school getting the White Swan Most Influential Brand Award and Shanti Madam getting the Most Influential Leader Award from URS Media AsiaOne Magazine:
Dear Shanti-amma
Hari Om ! Namaskaar!!
Congratulations. This is wonderful.
Wish they had written Principal, Chinmaya International Residential School, under your name.
And the full name of CIRS would have been appropriate.
Prem and Om
Vimalananda

Mail from Shri Ram Buxani, our school director  on our school getting the White Swan Most Influential Brand Award and Shanti Madam getting the White Swan Most Influential Leader Award from URS Media AsiaOne Magazine:
Dear Shantiji,
Hari Om !
Heartiest Congratulations !!
I am indeed happy to know that Chinmaya International Residential School has received Most Influential Brand Award and you have been awarded Most Influential Leader Award from URS Asia One at a function held on 3rd September, 2016 at Mumbai.
It is the recognition of your outstanding achievements due to vision, strategy and leadership of Pujya Gurudev, Guruji as well as Swami Swaroopananda and Swamini Vimalananda and dedication & hard work of you. This is really yet another feather and prestigious honour for CIRS.
Once again, I would like to extend my Hearty Congratulations to you, all teachers and students. I wish the school will have many more such laurels in the future.
Ram Buxani

Mail from Arun Ananthanarayanan – An Alumnus of CIRS expressing gratitude on Teachers Day
Dear Maam,
HariOm!

How are you doing? I hope everything is going perfect and that your health is all fine. I can't believe its been almost a year since we graduated. Time has just flown. Like always, I would also start off by thanking you for all your help and support that you gave me in 12th grade. I must admit that staying back at CIRS was the best decision I have taken in my life. Thanks to that I received a Vice Chancellors Attainment Scholarship from my university in recognition of my 12th standard results. I am surprised that I could extend that further by receiving the Great Scholar Scholarship from the British Council. Its a scholarship that only 59 students across the country get and I was lucky to get it. This led to me being a recipient of a Certificate of Achievement from the university for my 1st year university results which I cleared with distinction. I am currently doing an internship with KPMG and will later go back to Liverpool to pursue my studies.
Other than that I am a member of the University Cricket team and I also visit the temple there in Liverpool on Tuesdays. My parents are happy that I have become more mature and grown up. My sister is in grade 12 now and is studying commerce as well and is fine.
It would be great to hear from you after a long time and I hope we meet in the future.
Thank you once again for shaping me to be the person I am today. Thank you.
And most importantly, HAPPY TEACHERS DAY!
Thanks and Regards,
Arun Ananth
Mail from RONIKA THAKKAR – An Alumnus expressing gratitude on Teachers Day:
Hari Om Ma'am!
Wish you a very happy teachers day! Thank you for being such a wonderful teacher and helping me to bring out the best in me.
I'm currently pursuing my third year in Psychology at M.S. University of Baroda and recently, we were studying about the field of 'Educational Psychology', which involves designing the right kind of curriculum for students of different age groups and abilities, classroom management, ensuring overall development of students etc. That is when I realized, that so much goes into making CIRS what it truly is! Every person of the CIRS Family joins in to give the students the best schooling experience they could possibly ask for. Moreover, the Chinmaya Vision Programme has been designed so meticulously that it enables us to grow in every sphere of life so beautifully.
I can only feel admiration and gratitude towards the school every time I see what it has shaped me into. Thank you Ma'am.
Today, I wish you a very Happy Ganesh Chaturthi. May you have a wonderful ganesh utsav celebration at school.
Hari Om!
Best Regards,
Ronika

Mail from the parent of M. RHOSHEN PRATHYUG Class 12 Science expressing gratitude:
Dear madam,
Nice for sharing the news with us.we are so school-proud.

When I put him in the hostel, my only advice to Rhoshen was to forget about getting a good name from me but to think of his teachers and dorm parents as his parents and I wanted him to get a good name from you all which is not an easy one and i wanted him to work towards the better name for his house and overall his school which will sure make Rhoshen come out in flying colours and When he comes out of school.,the school and you teachers must miss him. He used to be a playful baby boy and years passed and now in front of us .,I can see a matured, hard-working., ready to face the world boy. I am so proud that the school has given him the best of all knowledge . I am so proud of your efforts taken for each and every kid in their own speed,the environment you have given to your students.All the praises will belong to Swami Chinmayananda's efforts with the help of you teachers and dorm parents.
For me., when I entered the school campus for his admission before 7 years., it was love at first -sight.,a dream place for my son to grow and learn., Which you teachers and parents with Swamijis have fulfilled .Loads of praises to the school .
Thanks again,madam.
Hari Om.,

Mail from the parents of Vinayak of IB I Year regarding his participation in quiz:
Dear Shantiji,
Hari Om, Namaste!!
Sorry I could not respond to your mail earlier... actually I was at loss of words to thank you for this mail.
This is the first time anyone has ever written to us about Vinayak. My wife and me are feeling very honored & humbled by this gesture.
We are thankful to you and the entire CIRS team for encouraging Vinayak to represent and participate in these Quiz competitions. He also mentioned to us last week, that every time he represents CIRS, he feels very motivated and filled with positive energy.
You were right in saying ( when last time I visited your office) that it is only by Poojya Gurudev and God's divine grace that one gets an opportunity to associate with organization like CIRS.
Thank you once again...
Best regards,
Vijayalakshmi and Krishnan
Mail from Pujya Swami Swaroopanandaji on Our School's Ranking in India (No. 2 in India and NO.1 in Tamiil Nadu)
Congratulations again. I am glad we at maintaining these Hugh rankings.
Love
---
Mail from Swamini Vimalanandaji on Our School's Ranking in India (No. 2 in India and NO.1 in Tamiil Nadu)
Dear Shanti-amma
Hari Om ! Namaskaar!!
Congratulations.
Prem and Om
Vimalananda

---
Mail from Dr Ram Buxani, our Director :
Dear Shantiji,
Hari Om
I was delighted to know from your communication that CIRS has been ranked 1st position in Tamil Nadu and 2nd position in India in the survey conducted by the Education World Survey for school rankings.
Please accept my congratulations to you and the entire students of the school behind this worthy achievement. I wish the school receive more and more such accolades in the future.
************************************
Dr. Ram Buxani
---
Mail from Swami Anukoolanandaji on our school's ranking :
Dear Shanti amma,
Hari Om!
Wonderful to hear that we are maintaining our ranking from last year. It is indeed not so easy to maintain such a high rank as 2nd in the country.
It is indeed because of the collective work of all staff and students and your able leadership that this has been possible.
Let us work even better to keep this going and god willing let us get the 1st rank. However, our focus, as always, will not be on the rankings, but upon the greater benefit that CIRS students and staff will derive from newer initiatives.
Hari Om!
Swami Anukoolananda
---
Mail from the Parent of Rishi Kumar of class XII Science on our school's ranking :
Respected Madam,
Hari Om,Namaste !
It's your dedication & hardwork,that CIRS has achieved laurels & will achieve more in future...
Congratulations to you & your staff for the achievements...
I've received the main,regarding Anand Utaav 2016.
Thanking you,Madam
With Regards,
V.C.Thiyageswaran,
F/O Rishikumar (2648)
Karur

---
Mail from the parent of ABHINAND BHASKAR(2747) Class 8 B on our school's  ranking:
Dear Shanti Mam,
Hari Om.
We are really glad to receive the good news. This achievement was possible only because of the tireless, sincere and dedicated efforts of your good self and your team. Our hearty congratulations to the entire CIRS team. May the Almighty bless you with good health and courage to soar high. We are proud to be associated with CIRS.
Pranaams
Bhaskar & Priya

---
Mail from the parent of Aditya Gunwant(2474) Class 11 Science expressing gratitude :
Dear Shanti Mam,
Hari Om Namashkar,
As I was reading the mail regarding Aditya Gunwant's selection for Geeta chanting competition my heart was overwhelming with emotions.
My whole purpose of sending him to CIRS had been solved. His interest in our culture and values is increasing day by day. I hope he will do well in competition and make you and us proud.
Regards
Poonam Gunwant

---
Mail from the Parent of SUNDARESH SUNDARAGOPAL(2824) Class 8 B..
HARI OM!!
Respected Principal,
Namaste.
"Congratulations" to you and the complete CIRS team for this great achievement and we Pray God to bless all to reach still greater heights.
We look forward to meet you during " Aanad Ustav-2016".
HARI OM!!
Thanks.
With Respects,
Sundaragopal Krishnamoorthy
(Father of Sundaresh Sundaragopal – 2824- VIII B)
---
Mail from the Parent of Sudarshan(1895) Class 10 C on his achievement in creative writing :
Respected Mam,
Hari Om.
I am very glad that my son E.Sudarshan, has secured the Ist place in creative writing in the competition held in ARB School.
I place my heartfelt thanks to the entire team in CIRS under your guidance and support to the students.
Regards,
Eshwar.S.G
________________________________________________________________
Mail from the Parent of SURTARANGINI DEVI(2286) class 8C
Respected Mam
Hari Om & Pranam
We immensely thank you for sharing this wonderful news to us. It is all your good wishes and the blessings of Pujya Gurudev that Surtarangini has been able to keep the CIRS Flag high. We feel lucky that we have had the opportunity to educate our children at CIRS.
Regards and best wishes.
Rohit Gang Deb
________________________________________________________________

Mail from Pujya Guruji on IB Results
ॐ

Dear Shantiji,

Hari Om!
It was indeed great news of joy about the IB results. My congratulations to you all for these wonderful results!

With Prem & Om,

Tejomayananda
_______________________________________________________________
Mail from Pujya Swami Swaroopanandaji, our Director In-Charge on IB Results
Dear Shantiji,
Hari Om!
Ganesh Sir informed me immediately. I happy with Ayush getting 44 and all getting diploma. Now we have to aim all above 38. Congratulations to you and the entire team.
Love
At His Feet
Swaroopananda
_______________________________________________________________
Mail from Swamini Vimalanandaji, our school director on IB Results
Dear Shanti-amma
Hari Om ! Namaskaar!!
Very happy with the results. Especially am glad that this time we got 44 and 3 got above 40. That is really very good.
Prem and Om
Vimalananda
_______________________________________________________________
Mail from Shri Laju Chanrai, One of our school directors on IB Results
Hari OM Shantiji,
Congratulations on the laudable results. Next target we should try and achieve is to get all Registered students to secure above the average diploma points recorded.
Regards,
Laju.
_______________________________________________________________

Mail from Shri Atul Karanjkar, Administrator, CCMT Education Cell on IB Results
Hari Om! Shantiji,
Pranaams! Our hearty congratulations to you and all your teachers of IB for the school's outstanding performance in IB Board exams!
Warm regards,
Atul Karanjkar
Administrator
CCMT Education Cell
_______________________________________________________________
Mail from Pujya Guruji on our CBSE class XII results:
Dear Shantiji,

Hari Om!
It was such pleasing news to get here during the Soul Safari Camp in Kenya. What news can be of greater joy than of success. My hearty greetings to all students and teachers. You have done extremely well.

With Prem & Om,

Tejomayananda
­­­­­­­________________________________________________________________
Congratulations again. Better each year.
Lots of love.
Swaroopananda
________________________________________________________________
Hari OM Shantiji,

Great results! Congratulations to the students, you and your team for all the hard work you must have put in to obtain such creditable results.

Prem and OM.
Laju.
________________________________________________________________
Indeed!! The result of some wonderful team work.
Congratulations.
Best rgds
Viju
________________________________________________________________
Dear All,
Hari Om!
I too am thrilled at seeing such good results. It is all credit to the hard work of all teachers and students.
May we together grow higher and higher in our achievements, in academics and in character.
Hari Om!
Sw. Anukoolanandaji
_______________________________________________________________
Mail from Ayush Ranjan (IB Batch 2016) expressing gratitude:
Hari Om to everyone,
I am writing this before my results have been announced so this is an unbiased mail. Results will be announced in another hour. Whatever it might be, I know I have done my best and I had given all I had for my goal. I think thats all I could do. Please forgive me if I have disappointed you. IB in CIRS was a wonderful journey. Like Didi always said, IB makes children grow internally. I feel it did make me grow as a person. I would like to thank CIRS so much for nurturing for 8 years and transforming for the best. I am what I am today because of CIRS. It astonishes me and my parents about how much I have changed and grown living in CIRS. And for that I am indebted to you all. Thank you so much. I have done my best to reciprocate something for the institution to whom I am so grateful through my IB exams. I really hope I make you proud. And if I don't now I will surely in the coming future. I will always carry the values I learnt in CIRS in me and carry the tag of a Chinmaya student proudly. I will surely contribute to the institution by making them proud of me. I would like to convey a message to the students. Please remember this message is unbiased because my results aren't yet announced.
Please tell them that CIRS is a place abundant with resources. If a student makes the most out of the resources provided, he/she can go beyond what they think would have been possible. The biggest resources which have to be utilised properly are their teachers and time. Teachers live on campus with you. They are always there to help you. I am telling you this out of experience. When I joined IB I was told that getting a 45 that too in PCM stream was almost impossible. But now I can confidently say that a 45 in IB so easy if a student uses his time and CIRS resources adequately. If i have not get 45 I would like to tell all those who aspire for it that its very very easy. Please don't restrain yourself with the thought that it is impossible. This is not only for academics but every possible field. Please know that you are very lucky to live in such a peaceful environment where you are provided with so much, guided everyday and taken care of. Not everyone has that privilege. After coming out I realised that it was much easier to succeed in CIRS than at college because there you only have to worry about ur work and your life. You don't have to be worrying about your home or cooking or laundry or family probs. You just have to work play enjoy with friends. You are kept away from distractions. There can't be a better environment which facilities your success. So please make the most of it. Do things and show the world that they thought was impossible. Don't be afraid to dream. Even if you are a failure in class you can be the next topper. Even if you are fat, you can be thin in two months. I am telling this because it IS POSSIBLE. Just believe in yourself even when no-one else believes in you. Best wishes to everyone!
Thank you again everyone for giving me my best 8 years of life in CIRS. It has made a drastic impact on me. My apologies if I have hurt or disappointed you. Thank you for making me a better person and preparing me for the world outside.
With Humble Regards,
Ayush Ranjan
_______________________________________________________________
Mail from Aditya Kanti Datta (Batch of IB 2016) expressing gratitude:
Hari Om Mam,
I am speechless at this moment, but I will give it a good shot to express myself. My thoughts are drifting back to five years ago, when I was walking through the corridor, crying my eyes out. Who would have ever known that this crying baby would come across the principal of his school on his way? Maybe that's how the force up above the clouds wanted things to work out. And it did.
I cannot tell you what big an inspiration you have been not only to me, but to everybody around me. Your ability to work is massive in strength and humility. I personally appreciate how you moulded me with your advise to be firm and unafraid in doing good, always. Being brave and responsible is a virtue that I have grasped through your guidance and also, through the guidance of your wonderful team of teachers including Jaya Mam, Swami Anukoolanandaji, Ganesh Sir, Roopa Mam, Rajeshwari Didi, Madam Sandipa and Srinivas Sir.
Your support towards my condition during the recent operation that I had to undergo, is incomparable. You will always live in my memory and your prayers have never been undermined. I promise to be the Aditya that you have always wanted me to be. I will not lie when I say that I am a bit disappointed with my overall score, but I am extremely happy that I scored a 7 in Math HL.

Now, it's time to do well in the world that awaits me as I set out on a journey throughout which I intend to keep smiling. I will try me best to go beyond what is expected of me while never deteriorating in the values instilled in me. I cannot say that I won't make mistakes, but I can definitely say that I will never repeat any mistakes. Thank you for all your blessings and best wishes. It has been a blissful, memorable and blessed learning experience at CIRS for the past seven years. Most importantly, it has been an honour to have felt Gurudev in me. I thank you for everything.
With regards,
Aditya Kanti Datta
_______________________________________________________________
Mail from Aditya Kanti Datta (Batch of IB 2016) expressing gratitude:
Hari Om Didi.
Throughout my stay at CIRS, you have helped me and guided me to a great extent. It has been a true pleasure to have had you as my teacher throughout the past seven, long years. You have always motivated me to push myself and be calm while overcoming certain obstacles at CIRS. Now, however, it's time for me to live my life to the fullest with His blessing by my side.

My thoughts go back to the wonderful evening Aartis that added so much of meaning to my thoughts everyday. I will never forget how it was not only a duty but also a blessing to be seated on stage almost everyday, with a mic in my hand and wonderful people around me. I also remember that incident in 10th grade when I was so devastated and distraught. But just when darkness seems to loom around us endlessly, we have to believe that the light's nearby, waiting for us to capture it and most importantly, grow from it. That light was always inches close to me, but I never believed in it. CIRS made me believe in it and that's when I actually started growing strongly from within, to some extent: I know I will make mistakes but it is of great importance that I do not repeat the same mistakes. I understand now that true joy doesn't lie in being good by oneself, but in ensuring that others around you are good too. I assure you I will try my best, in this endeavour.

Well, all's well that ends well and my 7 in Eco is a proof of that. I won't lie and so, I admit that I am disappointed. Somehow, things didn't work out but I am happy I tried hard. The journey's just begun and I intend to keep smiling. Thank you for everything and all the best for the years to come! I mean it.
With love and gratitude,
Aditya
_______________________________________________________________
Mail from the parent of Supreeth class 12 of batch 2016:.
Respected Madam,
This year being the birth centenary of our Pujya Gurudev, There has been a shower of blessings upon everyone of us and we feel very happy that our son K.V.Supreeth (R.no:2499) passed out of the school with a good result in the Board exams. We Earnestly hope that The almighty continues to bless this institution to generate many more bright young minds to shape our country's future and bring glory to this school.
The very first day at CIRS has put our anxieties to rest, We left the school with our child in your hands without any regrets or worries about his future. Two years of his stay in the school crafted him into a mature young man with a vision. We feel grateful for this transformation, the credit of which goes to the school and all its teachers.
This year my son wrote the Common Law Admission Test (CLAT) with a view to pursue law as his career. The results of the exam were declared on 22nd May and He secured an All India Rank of 665 with a score of 144.5 for 200. We were surprised at first, given the fact that he studied for this exam for only a month, but then we were astonished when he attributed this success to Gurudev by acknowledging the fact that he wrote this exam on 8th May which happens to be Gurudev Jayanthi. This is an example that he watches over us in all our endeavors.Also he was able to crack the Humanities and Social Sciences examination (HSEE) conducted on 17th May. He managed to make it to the waiting list with 3rd position which is analogous to a rank 26 in the open category. It is a likely situation that there will be vacancies created and he will get a seat there as well. We request you to share this result with the faculty present in the school once it reconvenes.
We apologise for any inadvarent mistakes made by our son during his stay in the school. We believe that they were made with utmost good faith and not with an intention of bringing upon a bad name or lowering the reputation of this esteemed institution. Also we would be extremely obliged if my son is allowed to visit the school once again during its major events just to revel in its memories and pay his respects to his teachers.Once again we thank this institution for giving our son a direction and an ideal to lead his life.
Thanking you
Yours Truly,
I.Lakshmi Rajyam
M/o K.V.Supreeth
---
Mail from the Parent of ARYAMAN PAREKH(2547) Class 9 A....

Respected madam,
Hari Om
Thank you very much for the extra efforts taken by the school in providing
Jain food to the children during Pajushans.
We highly appreciate your kind efforts in imbibing our traditions in the
young minds._

Best regards,
Deepshikha Parekh
---
Mail from the Parent of Scholar student Adarsh Bhaskar Kulkarni:
Dear Principal,
Hari Om!,
Received your letter and sorry for the late reply. Madhavi Kulkarni as parent would be attending the function along with her brother.
As such Adarsh will not be attending since he has 1st Semester exam on the same day on 6th October 2015.
We were very fortunate to have such an encouraging, caring and concerned CIRS staff who has touched Adarsh in his personality growth. Without CIRS staff, we would not have achieved such improvements in him.
We would like to express our sincere gratitude, Swami Chinmayanda's blessings and many thanks to the school staff teachers, special thanks to RHP & RHM and all care takers.
Hari Om!
Kind regards,
Bhaskar Kulkarni
Kuwait

---
Mail from the parents of Manan Vakt (Batch of 2013):
Dear Shanti Maam,
Hari Om !
Please accept our hearty congratulations for CIRS being selected as 2nd best coed residential school in India by Education World.
The country is coming to know what we all along knew.
A big thank you for the efforts of all at CIRS. We are seeing the result of all your efforts in Manan's progress.
Manan has joined Umass, Amherest & is settling down.
With kind regards,
Shalini & Ajay Vakta
P/o Manan Vakta, Alumni 2013 batch
---
Mail from Guruji on the news of our school featuring in Times of India News:
Dear Shantiji,

Hari Om!
Delighted to see the article in the newspaper. Hearty Congratulations once again!


With Prem & Om,

Tejomayananda
---
Mail from Shri Chandan Singh
Respected madam Hariom.
Madam whatever I am today it is due to CIRS only.
I am lucky to have blessings of Guru Ji and Gurudev. What I was when I joined CIRS in 2001, now what I am. Madam this transformation was due to CIRS atmosphere. With your blessings I am settled well. My wife is also transferred to Dehradun as the State Coordinator of SSA. My elder daughter Neveditta whose name was kept by Swamini Vimlananda, is studying in the Doon school in 8th class. Madam teachers' day is really the day to remember all teachers, people and institutions due to whom our life is shaped. Once again I am indebted to CIRS. Please bless me for my future endevours.
Once again I am inviting you to visit Himalaya and the Doon School.
With Regards
Chandan
---
Mail from Veenaa (2015 IB Batch) to the Headmistress expressing gratitude:
Hari Om Jaya Mam!
I actually sent this mail a long time ago, it was just recently that I realised that I had made an error in the email ID, so you must not have received this mail. I'm really sorry for you receiving this mail so late.
I never got to thank you the day I left Mam. You've taught me so much in a matter of two years, not just academically but so many values I've learnt from you that have guided me so much even today. I'm glad that I've been honoured and gifted to have a teacher like you. It's all thanks to Gurudev that I am blessed to have you as my teacher.
It is easy to take you for granted but it is difficult to forget your inspirational words. It is easy to misbehave in class but it is difficult to overlook your motivational advice. It is easy to spot annoyance in your behavior but it is difficult to realize the patience you have while dealing with us. Thank you for overlooking my EASY's and never forgetting to do your DIFFICULT's.
You have been more of a mother to me than a teacher. Correcting me, scolding me, advising me, praising me, everything a mother could possibly do, you have done it all. My mother has always been a little jealous of you because I listen to your advice over hers. But I know that deep down in her heart, she is actually very thankful that I have a teacher like you.
The problem with having an amazing teacher like you, is that you want the same teacher to teach you in college too. Although I know that no teacher could ever match to how much you mean to me, I hope I do get a teacher like you in college.
Right now I am doing exactly what you have always taught me to do when someone does something nice for you – say thank you. Thank you for making me what I am today. I would not be in this position if it were truly not for all your love and efforts.
Love you so much Mam! Thank you so much for your love and support!
With all my love
Veenaa
---
Mail from Parents of Mukesh Raj (2015 XII Science Batch) to the Principal:
Dear Madam,
Hari Om

Our hearty congratulations to the school for achieving outstanding results in CBSE as well as IB.
It is with immense pleasure and pride we take the responsibility to thank the school for our son S.MUKESH RAJ'S outstanding marks in the board exams.The school also played a very crucial role in developing our son's character and giving him a new perspective and an outlook to live life.

We are also pleased to inform that our son has cleared JEE MAINS as well as ADVANCED . It was all possible because of the support,guidance and the vision of his teachers and the CIRS staff.

Our son has got admission in NIT Trichy planning to pursue in NIT Trichy for his undergraduate Engineering studies. In addition, he wrote many entrance tests for various top ranked Engineering Institutes such as VIT, Manipal, SSN and SRM and all have offered Mechanical engineering.

We thank from the bottom of our heart to his class teacher Ganesh sir , co-class teacher Vivekanandan sir , Vishwanath sir, Sandipa madam who helped him view english from different prospectives and with college applications ,Saranya madam and Srinivas sir .
We also like to thank Sumathi madam, Roopa madam, Muthusaravanan sir, and Rajeshwari madam.

We also convey are heartfelt gratitude to Principal madam, Headmistress madam , Swami Anukoolananda, Swami Swaroopananda and Swami Tejomayananda for building this great institution.

Our son will carry forward what he learned from CIRS and harness in the future to achieve his goals and help others

Best Regards
Mrs.&Mr. Sankara Raj
Parents of Mukesh Raj Roll Number 2348
---
Mail from Radhika Rawat (2015 IB Batch) to the Principal expressing gratitude:
Hari Om Maam,
Thank you soooo much maam. If not for you, I would have never jumped from a 5 to a 6 in IB. I know I had a potential to get a 7 but I couldnt and I am sorry to disappoint you and all the other teachers. But I guess what matters is that I learnt a lot in these two years with you. My college started a week ago and I can recollect moments from our math classes and doubt solving sessions.The concepts are still crystal clear in my head. You have always given us your time despite of your busy schedule. I have never come across a teacher like you. You really deserve all the different titles you have received.
I miss CIRS so much. I look for students from our school so that I can talk about it and feel closer to the school. The poojas, chants, aartis are all missed. Two things that I miss the most are the relationships we had with our teachers and the campus. I dont think there exists an environment that can parallel or even come an inch close to the our school. It is a benchmark in itself. A hallmark of its own.
I can never stop praising our school maam, its a function that tends to infinity.
Hope, your subsequent batches are better than us and they bring name to CIRS and its teachers.
Right now, I am in Mumbai, studying in NMIMS mumbai.I am studying statistics here and giving actuarial papers simultaneously.
Love,
Radhika
---
Mail from Lavanya Talati expressing gratitude :
Shanti ma'am!

Hari om! this is Lavanya Talati.

I am writing to you to express my gratitude towards school. CIRS has changed me in many ways and I feel so happy that I have had the opportunity to be a part of the Chinmaya family.
CIRS has helped me self-reflect and understand myself better. It has played a huge role in making me what i am today. I find that one of the things i miss the most about school are the aarti's and the spiritual classes. CIRS has given me a cultural root to hold onto and for that i will be forever grateful. All the people in school, the friends I have made, they will be with me for a lifetime.

Even the teachers of CIRS are different because they show they care in so many different ways. CIRS has been my second home for 5 years and It will always be the place that transformed me.

At the time i never fully understood the importance of aarti's and spiritual classes and why all my teachers scolded me when they did. And now that i do understand I feel so happy that i spent 5 years of my life in CIRS. I could not have been in a better place.

I feel so much more rooted to India and the culture because of what school has taught me. I want to apologise for all the times i have caused any kind of trouble in school, but even those were experiences that have taught me so much of what is right and what is wrong.

Lastly, Thank You Shanti ma'am for giving me the opportunity to be a part of the big family that is CIRS because it really is a family. I can not thank you enough, because all the experiences that I have had being a CIRS student couldn't possibly be covered up in just a single 'Thank you'

With Regard,
Lavanya Talati
passed out grade 10 batch 2014-15
---
Mail from SHREEYA D GOUNDER's Parents on her achievement in the District Aquatic Meet:
Dear Smt. Shanti K,

Thank you for informing us of Shreeya's achievements. We are proud of her.

Regards,
Indu & Moorthi.
---
Mail from Meghaa Asher's Parents on her achievement in Tennis Tournament :
Hari om Mam.
Happy to hear her winning. I thank you again for your support to her in tennis as well in studies.
Hari om.
Regards
Hitesh asher.
Parent of MEGHAA H ASHER
---
Mail from Ayush Anand's Parent on his admission into BITS - Goa
Dear Madam,

Hari Om & Namaste.

I would like to inform you that , my son Ayush Anand (roll 2428) has got admission in to BITS Pilani, GOA , Integrated First Degree course. He will be awarded dual degree i.e. M.Sc with B.E. .

We would like to express our sincere thanks to you & all other staffs who have helped him throughout his 2 years memorable journey in CIRS and guided him to achieve this .

This is for your kind information please.

Warm regards.

D Sarangi
Parent of Ayush Anand (Class XII Science, 2015)
---
Mail from Sitara's Parents on her achievement in the District Aquatic Meet and Athletic Meet:
Hari Om Ma'am
I am very glad to know about Sitara's achievements and it makes me a very proud mother. Hope she keeps achieving more and more and make us all proud of her.
Thank u,
With Regards,
Gayathri
Parents of Sitara
---
Mail from Parent of KIRTTHIK A.J on his selection to the Students Council:
Hariom & Namaskar
Thank you so much mam
We are proud of our son & brother
With regards
Jegadeesh, Uma jegadeesh and Sukaash jegadeesh
---
Mail from the Parent of HARSH ANISH SHAH on his selection to the Students Council:
Respected Ma'am
Hari Om,
It is indeed a great news for us as a parent. We thank the school for continuous guidance and support provided for his development.
Regards
Parent of Harsh
---
Mail from Parent of Anjani on her selection to the Students Council:
Respected Madam,
Hari Om ! Namaste !
Wishing you very happy GURU PURNIMA.
The best achievement for a parent is, when they are known by their child's name.
Today Anjani has made me feel proud by becoming VYASA SR. HOUSE CAPTAIN for the year 2015-16.
I really want to thank from the bottom of my heart to you and your entire team for cultivating Anjani to reach this level and I am sure that, under your guidance, she will scale the peak of her life.
Thanking you once again and the entire team of CIRS.
Sandip Thakor | Director
---
Mail from the Parent of KIRTANA VALLURI on her selection into Student Council:
Hari Om!
Dear Madam
Thank you very much for the great news. Hope Kirtana will be able to deliver the responsibilities of the student council as an elected member and live up to the expectations. Hope she will be able to devote her time between her studies as well as this new responsibility in a productive way.
Regards
Surya
---
Mail from the Parent of Anand Natarajan(1961) Class 11 Mgt (Exemplary Student of the month)
Hari Om,

Thank you Madam for the update.

We sincerely attribute this to culture and upbringing rendered by the CIRS institution.

We look forward to meeting you in Anand Utsav and UAE Orientation.

Thanks and Regards,

Natarajan SS & Lakshmi Natarajan
---
Mail from the Parent of Neeraj Rajesh Varma(2357) Class 10 (Exemplary Student of the month)
Dear Madam,
Hari Om and Namaste,
Thanks for the mail and we as parents feel really happy about our son's achievement. Hope these motivates his studies as well.
Regards
Rajesh Varma

---
Mail from the parent of Darshan Bhavik(2627) Class 9 B(Exemplary Student of the month)
Respected Madam
Hari Om
Very glad to hear the news. Thanks for motivating my child to excel.
Regards
Deepa and Bhavik Momaya
---
Mail from the Parent of MRITHIKA(2694) Class 8(Exemplary Student of the month)
Dear Madam
Hari Om
We very happy to see this. All is your efforts and guidance .
Thanks
Venugopal
---
Mail from the Parent of Amrit Balakrishnan, Class XI Science (Exemplary Student of the month)
Hari Om and Namaste
Dear Madame
We are very much happy to hear from you that our son Amrit Balakrishnan has been selected as the exemplary student for the month July from his dorm. We are so proud of him and no words to express our gratitude. As parents, we have to say that Amrit is an independent child and performs all activities his own and he knew the limits. He has been brought up in an environment where all the values in life has been taught right from his very young age attending balavihar classes and other spiritual social gathering.
We express our sincere gratitude to you and the entire team at CIRS for selecting our ward for this award.
We look forward to hear many from him.
Once again thanks for your support and full kudos to CIRS where our son is enjoying a lot and doesn't miss anything.
With pranams
A.K.Balakrishnan
---
Dear Ma'am,
My regards to you. Very happy to know that the 10 & 12 Std. students have done very well in the recent CBSE Board Exams. The management, staff and the students deserve a great round of applause for their team effort. Also felt very happy to know that our CIRS has been ranked 7th at the All India Level amongst the CBSE Schools.
Gurudev Swamy Chinmayananda has been a contemporary spiritual leader of his time who has touched millions of people across the globe through his speech and energy. Such people continue to live in our midst in spirit and guide us through. One of his most famous sentences which I quote in my class is, "all your disappointment in life is because you have not had enough appointments with yourself"
I wish and pray CIRS many more milestones in times to come.
With warm regards
Sathiyamurthy
Father of Sanjna
---
Hari Om Maam,
How have you been doing? I have secured 93.2% in my boards as you know and have confirmed a place at the University of Liverpool. I would surely like to thank you for providing me a wonderful and friendly atmosphere. The course I am doing is BA Accounting and Finance with a Year in Placement. Its a 4 year degree that offers me 12 papers exemption from UK CA and also work placement during my 3rd year. As of now, I have gotten an internship with KPMG for two months and am now working with them. I am placed in the Audit-OMB Department and have started working since July 1st. I now get a chance to interact with various clients and help prepare financials with my mentor. Its a paid internship so I earn BD 250 per month which is approx. Rs 82500 in 2 months.
College starts in September so will start applying for VISA soon. Evenings I go to the gym for exercise and sleep early at night. So become quite busy these days. How are things at your end? Hope your doing fine. I hope Gurudev's Centenary year went on smoothly and cheerfully. I have recommended this school to many students here in Bahrain to continue their studies here at CIRS. I hope you are having a wonderful time and hope to meet you soon. I shall always live by the values taught by this school. I have also attached a few pictures below.
Take Care
Regards
Arun Ananth
---
Hari Om
Dear Principal & Staff of CIRS
It is with great pride, we would like to thank the CIRS Management, Principal and Staff for the successful 5 years of Education imparted to our Son KEAN ALRIC FERNANDES. These were the wonderful years spend with the entire CIRS family whenever as parents we came visiting our son, be it the Anand Utsav or the Khel Mela or a Sunday outing, we were always made to feel comfortable. I am sure Kean also has relished his stay, education and the values received by him which will stand him in good company over the years We must thank the Dorm parents for all these years for their guidance and patience with the growing children and the support staff for the gracious way of handling the children. Kean was inspired by the Saint Don Bosco in his formative years when he studied in Kuwait and now in his young age he should be inspired with Swami Chinmayananda.
My first experience of Swami Chinmayananda Mission was in Kuwait when I had attended the discourse by Swami Swaroopnanda in the Indian Embassy and was very much impressed with the work being done by the mission specially by propagating good education and family values.
We would always value the good standards set up by the school and encourage the school to continue the good work and bring the best out from the children
Keep it up and all the best!
Regards
Tony Fernandes, Bangalore.
Parents of Ms. KEAN ALRIC FERNANDES Roll Number 1803
---
Hari Om
Respected Madam
Very delighted and happy to see my daughter Miss P.R.Niranjana scoring 10 CGPA in her 10th Exams. As parents when we get credit for our child's achievements we know 'Our child has the best teacher' thanks to wonderful teachers like you and Thanks for bringing out the best in our child.
We humble dedicate all the credit she has got to the all the teachers and place it at the lotus feet of Pujya Gurudev.
Regards
Ramasubramania Raja
Parents of Ms.Niranjana Roll Number 2315
---
Hari om !
Dear Principal Madam,
I am very pleased to inform you that my daughter Rani Unnamalai K,hadbeen selected for admission to IIT-Chennai. She got 10th rank in the all india entance exam held on 26thApril'2015. She will be studying 5 year integrated MA(Humanities and Social Studies)at IIT chennai.This course is available only at IIT-Chennai and hence highly competitive.This course would help her in her aim to become an IAS.
She owes this success due to the blessings of our Gurudev,inspirations of our swamiji's and guidance of you teachers at CIRS. Teaching, atmosphere and exposure of CIRS are the main contribution for her to get in to the top ranking of the all india entrance examinations.
Truly CIRS is a school with a VISION and great atmosphere to excell, it can help any one with an aim to excell in life. Thank you all for ur coachings and care all this seven years of her stay with CIRS.
Please bless her for her future endevours.
Thanks N best regards
R.Kailai Rajan,
Parents of Ms.Rani Unnamalai Roll Number 1477
---
Greetings & Hari Om !!!
Dear Madam,
Ashwita has come back after two years of her school XIth & XIIth grade, with fond memories of the schools & friends. Our apologies for not being there in person to receive her and to thank each one of you in person.
We take this opportunity to express our sincere gratitude for all the efforts put in by the school, especially to Swamiji's, Principal & the Teachers, the Management & the faculty for nurturing her & also special thanks to Madam Manjula & Latha madam for extending parental support to her away from home and last not but the least the Anna's/catering dept.
Our special thanks to her Class Teacher, Mr. Ganesh & her favourite biology Teacher who is no longer there & the Arts teacher who helped her a lot in teaching the art.
Once again thank you for everything & we wish you and your entire team all the success
Thanks & Best Regards,
Usha Rao
Parents of Ms.Ashwitha Rao Roll Number 2389
---
Dear Shantiji,
Hari Om!
Very good results indeed. Hearty Congratulations! Chinmaya Vaibhavam was great!
With Prem & Om,
Tejomayananda
---
Dear Shanti-amma,
Hari Om ! Namaskaar!!
Good! You have done it again. Congratulations!
Prem and Om
Vimalananda
---
Hari Om Shantiji,
Hari Om ! Namaskaar!!
Great consistency over the last few years. These milestones will make CIRS an institution that lasts for ever. Congratulations to your TEAM , your students and you
best wishes
Viju
---
Hari Om and Namaskar
Dear Principal Madam, and management of CIRS
It was our pleasure to note that Varsha Subramanian has scored excellent marks (95.4%) in Class 12, CBSE Board Examination. As Varsha herself puts it, It is mainly due to excellent coaching and untiring efforts of CIRS teachers in making them revise the subject and preparing well for the exams. It is more evident from the fact most of the children in the class scored above 90%.
We hereby convey our sincere gratitude to Principal, Swami Swaroopanandaji, Sw. Anukoolanada, and the entire teaching and admin faculty of CIRS to make this happen and provide the most conducive atmosphere for the children to learn and play.
Besides the all round development children have at CIRS, we as parents, thank CIRS team for taking care of every need of the child be it safety, security etc in a way, even us, can not do at times.
Please accept our humble pranams..
Best Regards
Subramanian V V
Parents of Ms.Varsha Subramanian Roll Number 1753
---
Dear Shantiji,
Hari Om!
What delightful news to receive on the Festival of Lights! My heartiest congratulations to our swimming girls team and their coaches for bringing some laurels to our school! My very special compliments to Mahek. Please convey my greetings to her parents also.
With Prem & Om,
Tejomayananda
---
Respected Madam,
Hari Om,
We truly feel blessed and no words to say.
We from bottom from our heart feel highly obliged. She has been able to achieve this only with your support and guidance and Blessings of the Pujya Gurudev.
With warm regards,
Alka & Sunil Bhandari
---
Messages from our Directors on our achievements in 10th standard results:
Dear Shantiji,

Hari Om!

Heartiest Congratulations on the great results of Class X!

With Prem & Om,
Tejomayananda
---
Dear Shantiji,
Hari Om
Congratulations once again for such good results. My love to the entire team of teachers and staff.
Love
At His Feet
SWAROOPANANDA
---
Dear Shanti-amma
Hari Om ! Namaskaar!!
Congratulations to all concerned!
Prem and Om

Vimalananda
---
Hari OM Shantiji,
Excellent news . Congratulations to the students, you and your team for ' making this happen' with the belssings of Gurudev, Gurji and Swamiji.
Prem and OM,

Laju.
Dear Shantiji,

Hari Om
It is indeed encouraging to note from your communication dated 20th May, 2014 that CIRS has achieved 100% result in the CBSE – Grade X examination.
I would like to congratulate you and all the teachers for the positive results. I pray that with the blessings of Gurudev and Guruji, the school will go from height to heights under your able stewardship.

Best regards,
Ram Buxani
---
Dear Madam,

Hari OM n namaskar....

I want to share my son result of 10th grade. He has got 10/10 cgpa. I am heartfully thankful to you and your institute to impart the best teachings to him. He has made proud to us and you both. Thanks a lot again for him being part of your excellent school.

Thanks n regards
MonicaTibrewal.
Parent of Aadit Tibrewal (Class X)
---
Hari Om Ma'am!
I wrote the Graduate Aptitude Test in Engineering (GATE) in February 2014, aspiring for post graduate studies in IISc/IITs. GATE results are declared. And I'm happy to inform you that I secured an All India Rank of 32, and a score of 704 out of 1000. I am proud to be an alumni of CIRS, and I thank the institution for being very supportive and encouraging during my higher secondary education, and also for the continuous support after the completion of my schooling. I wrote the GATE exam in Aerospace Engineering, and the rank obtained is paper-wise. Thank you.
Yours sincerely
Viverjita
(R.No: 1471)
---
Hari Om Ma'am!
This is Viverjita (CBSE Science, 2008-2010 batch). I am happy to inform you about my admission in IIT-M for Direct Ph.D. in July 2014 (after completing B.Tech) in the field of Aerospace Propulsion, under HTRA category.
I thank you, the institution and all the teachers who have helped me always. I attribute this selection for admission to Gurudev's blessings, Chinmaya Mission and every person at CIRS who have guided me and molded me into the person I am today.
Thank you.
With best regards,
Viverjita
(R.No: 1471)
---
Dear Madam
Hari Om
This is to inform you that I'm unable to meet you today as requested, due to some exigency at home. I did try to get in touch with your secretary to inform the same but couldn't get through. I take this opportunity to thank you and the school staff for all the guidance and support rendered to Shyam Gopal to teach him values and mould him all through his tenure at CIRS. Wishing you all the very best to continue the great service.
Thank you once again.
Regards
Rama Krishna Kumar
---
Parents of Kashyap Jothish
Dear Madam Principal,
Hari Om !
Hope you are keeping fine by the grace of God and Swami Chinmayandi blessings.
We wanted to thank you and your entire teaching team and staff for the extensive support and guidance that you have extended to Kashyap during his last 5 years at CIRS.
After spending 5 great years at CIRS my son Kashyap indeed very emotional to leave all of you from CIRS campus but it is life and he has to take the next step of his life to pursue further.
As you know our second boy Rishabh is taking admission for the 7th std onwards at CIRS and he is looking forward to it.
We wish all the very best to CIRS and the students who were participating for the 10th and 12th exams to get a wonderful result.
Thank you once again and best regards from
Rajani and Jothish
---
Dear Ma'am,
Hari Om and Namaste!
The Orientation programme was a pleasant experience for us and our wards.
It was well organised in all respects - Document submission, ID, Medical, Uniform et al at one place. Checking in at the Dorms was well handled and the Dorm floors were spic and span. We felt very welcome.
Ice breaking sessions were fun and it was nice to see the students of CIRS guiding the new comers and they did it with passion.
Varsha and Harsha presented the programme with proficiency and ease. The CVP was also presented well by the girl and the boy (forgot their names).
CVP brief by Swamiji made us introspect and the evening bhajan and Arati were scintillating. This is what inspires us the most, at CIRS.
Lot of hard work has gone into making this event a success. Our heartfelt thanks and gratitude to the Management, Faculty, RHPs, Students, helpers and everyone else.
Wish CIRS many more laurels.
Best regards .
Capt Latha V
---
Respected Madam Principal,
Hari Om and Namaste,
With God's grace and Gurudev's blessings, Dhanya has successfully completed her two year study at CIRS. It was a very quick two years. We, all of us from Dhanya's family would like to express our heartfelt thanks and sincere gratitude to each and everyone of CIRS family who have extended all your support during these two years of her unforgettable school days, giving her the best platform to showcase all her talent and in moulding her to achieve her goals.
Thank you Madam Principal, Madam Headmistress for all your support extended. Swamiji a big THANKYOU to you , we do not have words to express our feelings. Thank you Muthumanickam sir, although she did not take maths, but being her class teacher and supporting her for these two years. Thank you Roopaji, Satish sir, Viswanath sir, madam Priya and Srinivasan coach.
Thankyou so much Madam Sandipa, Rajeswari Didi and Madam Mydhili for all your support extended.
Thank you Madam Rita, Madam Manjula and Madam Latha for extending parental support to her away from home.
Thank you to your admin team, medical team and arts team for all your support.
THANKYOU to all Ammas for their special care and thanks to all others who helped her in some way or the other.

May God bless you all with long life full of happiness and good health.
Pranams,
Prema Mohan
---
Dear Ma'am,
Hari Om. Namaste.
I am very happy to inform that Sanjay Krishna has got an offer letter from HKUST. Sudha and I got the confidence to send him abroad due to the excellent grooming he got in CIRS. I thank you and your team.
For the renewal of his passport, a bonafide certificate or course completion certificate with his photograph affixed is required. Since his interview with the Passport officials is scheduled on Friday (11.4.14), I would request you to kindly arrange to send the same by courier at the earliest.
Thanks & Regards,
K. Sundaresan,
---
Parents of A.P.Ritesh & A.P. Sanjesh - 2475 & 2476.

Dear Madam,

Hari Om.

Good Morning.

We would like to place our wonderful wishes & heartfelt thanks for the whole team of CIRS for the arrangements made during admission days on April 5 & 6.

Each & everything was planned properly & made on time.

Though students new to the campus do not feel they are strange, very ease & should appreciate the old students for their friendly approach. The dorm madams very caring & lovable.

We return back with full confidence that CIRS will be best place for all children there with greater exposure & happiness.

We are very much inspired by our Swamiji's talk, a cheerful smile all the day of him creates a positive waves with us & around the campus, we are sure under his guidance children will learn more things.

Coming back from CIRS our days are passing remembering the two days & wondering the arrangements & concern you have given for us.

Looking forward for more wonderful moments in CIRS.


BEST REGARDS
M . P. SELVARAJ,
GLOMAX ( FORMERLY SILKART OVERSEAS)
---
Appreciation for Sarang Gupta
CIRS's former student Sarang Gupta was awarded with Dean's List Award 2012-2013 for his outstanding academic achievement in HKUST in 2012-2013.
---
Dear Shanthi Madam ,
Hariom  & Namasthe .
Hope this mail finds you in good health and best of everything. Dear Madam, first let me congratulate you on the success of the Anand Utsav programme it always gets better and better, which always makes us feel privileged to be part of it.

Thanks to Swamiji for his discourse in the meeting and Swami Anukulanda too for subtly reminding the parents need to put in more effort in inculcating Desh Bhakti.

Madam during admission too I specially mentioned in my handwritten letter that no school is paying importance to patriotism .

The last day of the programme which makes every parent emotionally intense....I am no exception..my heart filled with gratitude for reminding our children what parents do for them in description....touching their hearts and making them realise and feel the love which they take for
granted..

MADAM, I HAVE CHANGED SO MUCH BY THESE MATHRUPOOJA AND DISCOURSES..IT TAUGHT ME TO BE EXTRA EXTRA PATIENT AND TOLERANT WITH MY SENIOR CITIZENS WHO ARE A BUNCH AT HOME....WHO ARE SO FRUSTRATED....WITH THEIR ILL HEALTH AND
HELPLESSNESS IN TURN TRY TO TEST US BY DOING THER MOST TO ANNOY US ....ONLY
AFTER COMING TO CIRSCHOOL .
I started understanding that they do this to see if we still care and we do care, only our priorities change and we put them last after our children, it hurts them, this all changed solely because of our mathrusavanam.. Thanks to C.I.R.S.

Thanking you.
Mukundalakshmi (parent)
---
Dear Shanti madam,
It was an immense pleasure to meet you. The Anand Utsav we attended was an experience we will always carry with us for which we are grateful to the Cirs family. A special mention I would like to make of how wonderfully organised our visit was , attention was given to every detail and all the parents And relatives were given special treatment, we felt like we had come to visit our own big family. I feel secure and confident that such fine human beings have the responsibility in shaping my daughter's character and future. In fact after returning home I was missing CIRS so I can only imagine how all the children must feel. Swami Anukulananda with his loving voice is such a gentle guide for such impressionable minds, the children are blessed to have him and all the loving teachers and especially you as guides in their lives, thankyou for everything. I am also sending you a dvd about the liter of light project am working on, it also has information of the ngo I work for CMCA.
Warm regards
Rupali Kale
---
Hari Om & Namaskar.
Warm greetings.
My due apologies for this late mail due to Durga puja celebrations and others. We congratulate the entire team of CIRS heartfully for the wonderful programme organized during the Anand Utsav. It was simply superb.
We are also very happy that our child has settled down very well at CIRS. He is very happy and in fact he wants his sister too to join in CIRS next year.
We are very pleased with the care and concern shown by his dorm parents Sri Ramesh Kulkarni and Smt Shailaja. My son says he is enjoying a lot in the dorm. Our heartfelt thanks to you and the dorm parents.
Thank you very much for everything.
With regards
Neelima
(M/o B Krishna Chaitanya-VI/B-2402)
---
Respected Dear Principal Madam,
Hari Om & Namaskar !
My Heartful wishes for Deepawali & New Year to you & CIRS family!! It was indeed a great pleasure to witness the grand celebration of Anand Utsav 2013.The moment we landed CIRS we felt as if Anand , Masti was filled in the atmosphere & we were floating in it… We were meeting all teachers as per schedule given to us & everywhere we could feel that same Anand / Masti among all students, Parents & Teachers… Time was flying by & that evening when we heard "Adharam Madhuram…… "by the school children I was just speechless. The light & sound effect & above all the dance, music performed by the students were at par with any professional stage show we had ever seen. It was a pleasant surprise, electrifying & fabulous; Awesome!!
The program reminded me of my Late Grandfather who used to chant the same every morning while getting ready for his daily routine & I as a young child used to say " Dada what does it mean I don't know but I like to hear every day from you" & his instant reply was "don't worry one day you will understand". The one hour program was so charismatic that we didn't realize when the time came for us to leave the campus. I shall be very happy & oblige if you can send me a VDO CD of the event.
Next day was again a heart touching moment for us when our children were chanting shlokas & performing Matra-Pitru Pooja. Our tears rolled down with gratitude towards you, your entire family of the school, my dear friend & relatives who suggested CIRS & my parents who made us proud by teaching us Spirituality & religious as our utmost wealth. When we left our children on 6th evening we were assured of best of health & wisdom that will be showered by you & your entire team of CIRS. I am waiting again to hear the great moments that children had during Dussherra celebrations.
With lots of gratitude I would like to share as we know our (Hindus) Grand festival Deepawali is nearby & as it is one of the biggest festival where entire family re-unite at least for this day to celebrate the festival of light, melt our bitterness by exchanging sweets, wear new clothes & take blessings from the elders & begin a joyous New Year from next day onwards. A long winter vacation starts after Deepawali & during those days we don't have any other festivals/ occasion where entire family can gather; so I am anxious to know can't we have a small vacation/ outing during Deepawali days ? That will help us & our children realise the value of family bond & also they can proudly present their experiences of CIRS (CCMT) at any family/ social gatherings which shall ultimately boost their confidence. In a way we can promote the knowledge & wisdom of our rich culture & tradition.
I am confident that you shall give a serious thought to this when we plan our school calendar for coming years. Also I will be delighted & grateful for your response in this matter for this Deepawali. Looking forward to meet you & CIRS family in coming Khel utsav with same enthusiasm & innovative ideas.
Regards,
Jayesh Sangani
---
Hari Om and Namskar
Dear Madam,
Hearty Congratulations to you and Team CIRS for successfully organizing Anand Utsav 2013 from 30th Sept.'13 to 2nd Oct.'13. Thanks for the opportunity created to witness and be part of this beautiful event as a proud parents of Ms.Aswni S, Roll Number 2338 Class XI.
We appreciate the precision in which the entire event is conducted. The way you mould our children , giving us high level of confidence that they would surely become great individuals in their future life.
One suggestion, as we found more time to relax in between, why don't you look at conducting this event in 2 days, instead of spreading into 3 days. Your time and Parent's time also would be saved, by which some amount of money also could be saved for you.
Once again , Thanks a lot to one and all at CIRS.
Best Rgds
N Sundara Rajan / S Gomathi
Parents of Ms.Aswni S Roll Number 2338
---
Respected Principal,
"Hari Om" Namaaskar,
It was our honour to attend such a great Utsav and specially "Matru Pitru Pooja" this morning . It was the first ever time in our life we have gone through with such a Great Experience which was so Touchy to heart.
May I take this opportunity to thanks Shri Swamiji, to you and all the Teaching Staff for the wonderful and excellent Arrangement for all the three days.
Our Sincere thanks to all the NCC student for taking care about us outside each and every room for our timely appointment and the last not the least for the wonderful food arrangement with wonderful food quality. Kindly convey our sincere thanks to all of them.
With Warm Regards,
Sarwan Saraf
---
Dear Shantimam,
Hair Om!
We just wanted to take this opportunity to congratulate you and your team on this year's Anand Utsav program which was wonderful and very well organized. Also, it was a feast to our eyes to read that our school is ranked No.5 All India and No.1 in Tamilnadu in the list of top 10 boarding schools in India. Just a few steps away from the No. 1 position which I am sure will happen soon under your able leadership.
I would specially like to congratulate Sri. Ramesh and Smt. Shailaja Kulkarni - RHP/ RHM of Govindalaya, the dorm where my son, Dhruv Benegal resides. They have been such wonderful house parents, that my son and both of us are very happy, satisfied and proud to be associated with. I would even go one step further to say, they are a real asset to CIRS.
Our association with CIRS goes back 6 years and we feel immensely proud of it.
Please feel free to let us know how we could be of help to serve the school and we would feel blessed.
With sincere Pranams to you and best regards to all at CIRS.
Ashwin Benegal / Vandana Benegal
---
Shantiji
Wow!!
Congratulations to the students, the faculty and YOU God Bless
With best regards
Viju
---
Dear Shantiji,
My heartfelt congratulations to the entire team, the students and yourself.
Regards
Siddharth Balachandran
---
Hari OM Shantiji,
Heartiest Congratulations to our Students, the Faculty and you for keeping on achieveing these excellent Grades.
Prem and OM.
Laju
---
Dear Shantiji,
Heartiest congratulation and complements to all teachers and students for an excellent results of class 10th and 12th under your leadership.
I sincerely pray to almighty to give you and your team to carry on this noble work.
Hari Om,
M P CHHAYA
---
Dear Madam Shanti,
Hearty Congratulations to all the Students, Faculty and yourself for the excellent results.
All Good wishes & with best regards,
Prochie
---
Dear Shantiji,
Hari Om
I have your communication dated 28th May, 2013 alongwith details of marks obtained by the students in the 10th & 12th standard examinations.
I would like to extend my Hearty Congratulations to you and all teachers. I pray that with the blessings of Gurudev and Guruji and hard efforts of faculty and all those behind the Institution, the School will go from height to heights under your able stewardship.
Best regards,
Dr. Ram Buxani
---
Hari Om ma'am,
This is Harsh Garodia. This mail is to inform you about my university plans.
I have accepted my admission offer from the University of Maryland,College Park. I will be pursuing my studies for economics and finance.
These two years at CIRS have helped me a lot and I can clearly see the difference between myself and others in the outside world. Thank you for your constant guidance, help and love.
Regards,
Harsh Vardhan Garodia
---
Hari Om ma'am!!!
Our JEE mains results came out this Tuesday, May 7th. And I got through to the second level, the JEE advanced, which is for admission into the IITs. The cut- off for qualification was 113 marks, and I got 172. I have more entrances lined up this month, like BITS, and COMED- K. So, JEE advanced will be my last which is on June 2nd.
I also wanted to thank you for all the support and encouragement ma'am. It really has helped me to become a better person. Now that I have cleared the first stage, I am motivated to crack the IIT exam as well and will do my best. I am going for the TIME coaching here in Bangalore for IIT preparation.
Abhishiek also qualified ma'am, he got 142 marks. Thank you ma'am.
Regards,
Shashank.
---
Hari Om Ma'am,
Seeing as the 12th grade CBSE results are out and that I've been able to exceed my own expectations, I would really like to thank the school for all the support i have received over the last 2 years.
Most of all, for trusting me and taking me back in the first place.
CIRS in the 11th and 12th grade has been completely different for me. It was like a new school. The whole atmosphere created by the teachers was so amazing for me,and I learned a lot more than I thought i would.
And not just the last 2 years, but the last 6 years put together have changed me beyond recognition. CIRS will always be my most pleasant memory and the credit goes to CIRS's wonderful teachers.
Once again, Thank You so much for the great time i had in school.
Regards,
Hrishikesh Bhatt
---
Respected Ma'am
Hari Om !
I am pleased to inform you that I have taken admission in Symbiosis School of Photography (SSP) for a BFA 3 yr degree course in Pune.
I would also like to tell you that I was also selected for a 3 yr BCA programme in Symbiosis Institute of Computer Studies and Research (SICSR) ; but i preferred to choose photography over computers as i believe my passion for the former is more.
I would like to sincerely thank you and all the teaching staff for believing in me, and giving me CIRS, a place that one keeps in one's permanent memory.
Thank you.
Seeking your blessings for my future endeavours
Kshitij
---
Hari Om Ma'am,
Thank you once again. I am sorry for the constant issues I brought to you. I have been given admissions to Iowa State University , Arizona State University and Illinois Institute of technology. I would like extend a great big thanks to all the teachers and other respected personnel who have helped me complete my IBDP exams successfully.
Also I wish all my juniors luck and all the very best for their beautiful journey in CIRS and through their education. Once again thank you for everything and wish all the very best to everyone in Chinmaya International Residential School.

Anirudh Sai
---
Hari Om Maam ,
How have you been doing? I hope all is well with you. I wanted to let you know that I have secured admission into Hong Kong University of Science and Technology (HKUST) with a one year off scholarship. I will be joining the university in 3rd week of August.
I would like to take this opportunity to thank you and all the teachers and staff for the immense support and guidance they showered upon me throughout my stay in CIRS. I owe my board examination marks to my teachers, who worked relentlessly alongside with us and constantly motivated us. Special thanks to Srinivas Sir for being a very cooperative house parent. Rest is well.
Regards,
Varun Fatehpuria
---
HARI OM !
Dear Maam,
Our sincere gratitude to CIRS for having groomed both our children Pruthvi and Pranesh to reach greater heights.
We are sure that Pujya gurudev's blessings and Director Swaroopanandaji's guidance at this young age has helped them shape up their lives towards better cause and future.
Our heartfelt gratitude to Rishi bhaiya, his ever smiling approach, guidance and coaching which stimulated critical thinking in the children and developed self confidence. As parents, his views on the children's ability, strengths and weaknesses shared with us during the Anand Utsav parents meet has always given us better perspective of how to groom them further.
We thank you very much for your personal care and attention which always made us feel comfortable that they are in very safe hands. Small incidences such as pranesh lost his laptop and all the efforts you personally took to find it and the pet slap after it was found, and your prayers to offer goood to anjaneya - I am sure such personal touch we can never experience from any other principal. Pruthvi having met with accident and your immediate understanding and concern for him to get well - this affection and compassion made a lot of difference to us. Our heartfelt thanks to you. Your untiring efforts to bring up the level of CIRS in both academics and discipline has made a lot of good impact in the past 4 years. Our congratulations to CIRS for the National Second rank holder of CBSE is from CIRS!. It is a hallmark of your efforts maam! Hats off to you!
Our sincere thanks to all the IB faculty for having guided, coached and encouraged our children throughout their tenure of study. Hats off to Sandeepa maam, Rita maam and Parthiban Sir for taking both Pruthvi and Pranesh up by two grades higher than what they were when they joined IB. Without their relentless, untiring practice sessions irrespective of the additional time they had to spend at odd hours, corrections and feedback, this would not have been possible. Their feedback when required, even if it were critical did not put down the children but made them think and progress further. Their engagement with the children with intellectual discussions on other topics and not just on the subject helped them in their overall growth and confidence. Our sincere thanks to Venkat sir, Viswanth sir and Andavar sir for their guidance in the core subjects. We should mention our heartfelt gratitude to Kulkarni sir - thier dorm parent and house mother in disciplining them and helping them in all aspects, showing the tenderness of the family during the entire stay. Our sincere thanks to Siva sir for the encouragement in physical activity which made Pruthvi gain a lot of confidence and Pranesh to take up some physical activity. Our sincere thanks to all other teachers other than IB faculty who dealt with them - Jaya maam, Ganesh Sir, Muthu Sir, Diwakar sir who have extended an extra care in coaching and guiding them.
Our thanks to Past principal Anurag sir and secretary Sugumaran sir who gave us the confidence to put our children in IB at CIRS.
Words cannot express our feelings as parents towards the entire CIRS family for having taken care of both our chidren. Thank you all so much.
Best regards
Sandeep and Sangeetha
(Pranesh's Parents)
---
Dear Madam
On behalf of me and my husband I thank you and the entire school for all that he has achieved toda. We have seen the school shape him up in the last 5 years and whatever he becomes in the future he will carry the crucial lesson of honesty and hard work through out his life. He would like to persue career in medicine and in now in Trissur training for it. I would once again like to thank the entire school for his results.
Regards
Sujata (Rohan Basak's mother)
---
Hari Om Madam
Hope all of you are keeping well at CIRS. Sachin academic year is coming to an end at CIRS. I cannot express in words how grateful I am to you and the team at CIRS in molding my Son, Sachin Menon. I do see lot of positive changes in him, in terms of his behaviour, attitude towards people, attitude towards life and over all building a confident person in him.
I was expecting myself to there tomorrow to collect and meet every one in person to convey my gratefulness. But unfortunately health has taken a toll on me and I am admitted for the next 3 weeks in AVP Coimbatore for treatment of Rhumetoid Arthritis. Hence I will not be able to come in person, as I am in the intensive stage of my treatment(Phizichil & Dhara).
Hence to collect Sachin tomorrow his Grand Mother (Mrs. Leela Kailas) will be coming. Also, I would like to understand the next stage of the process interms of when do we expect his results, when are we expected to be at CIRS etc, so I can plan then accordingly with my work schedule, when I get back to Dubai.
My sincerely thanks and gratefulness to yourself, Rishi Bhaiya, Venkat Sir and the entire crew in my Son's development. I really wish he acquires the results expected by the Univertisities to persue his higher education.
Only request I would have for Sachin is to hold tightly the values he has learned from CIRS through his life, to help him be successful in life.
Once again, apologise for not able to be there in person, thanks for your inderstanding. As I mentioned to Rishi Bhaiya and Didi who came to Dubai, whether our child is with CIRS or not, we are more than happy to welcome you and host you on your future trips to Dubai.
I remain, Sincerely
Chithra Menon
Sachin's Mother
---
Dear Madam,
Hari Om,
My son, Anirudh Ravichandran (1957) reached home safely with lots of wonderful memories of CIRS. I thank you and your team of teachers well led by Mr. Ganesh and well supported by Mr. Andavar, Mr. Rajeev, Mrs. Roopa and Mrs. Saranya and Mr. Sivakumar. I appreciate your team for taking care of the boys in preparing and guiding them in many ways. Special thanks to Sri. Sreenivas Kulkarni for managing and taking care of them in dorm.
Thanks to Swami Anukoolananda and Mrs. Rajeswari in providing them Education with value which I am sure he will carry forward in his higher education.
Some of points I would like to highlight which helped my son immensely:
Aarthi session in amphi theatre which helped him rejuvenate his mind and body during exam.
During exam, preparing and taking them to exam centre and providing them food immediately after the exam .... needs special appreciation to all those involved.
He enjoyed all the festivals celebrated during his CIRS days will remain in his memeory forever.
Thanks to PE department who helped him throughout his CIRS days in his sports activities.
Our Pranams to Swami Swaroopanandaji for guiding you all. Special Thanks to catering, housekeeping, travel and admin staff.
I wish you and your team all success in making CIRS as THE best school from one among the best. By God's grace, I would like my younger son get enrolled in your school next year.
THANK YOU VERY MUCH
Best Regards
S. Ravichandran
Kala Ravichandran (parents of Anirudh Ravichandran)
---
HARI OM MAAM !
15 days are over and it still feels like my vacations are going on and i will come back to school after few days .It has been really hard for me to leave school, a place where i have been taught with love and care.I promise to continue following all the values i have been taught for this wonderful place,my second home CIRS.I know that where ever the road of life takes me,the love of all of you will bring me back home CIRS.It will be a really new beginning for me as i have to start a new life with new friends,new teachers ,a new surrounding but i will surely miss being a part of CIRS family a home away from home.I know i have been blessed for 5 years ago my feet entered the gates of CIRS.
THANKING YOU
PRAKESHA.
---
Dear Madam,
Malaika's guardian Supriya Sreenath will come on the 21st at 4.00 P.M to collect her from school. Kindly facilitate her departure accordingly. At this juncture I would like to thank you and the school for turning Malaika into a confident young girl in the last two years. The improvement we see in her personality and her readiness to face the world are a result of the time and coaching invested in her by you and the teachers of Chinmaya . I am extremely glad that me and my husband made this decision of putting her in this great institution and we hope that she will make you proud by being your brand ambassador.
Regards
Priya Sujeet
(Malaika's Mother)